Poll: Half of Europeans at Financial Risk, 1 in 4 in "Precarious" Position
Elvis Dunderhoff
November 7, 2022
---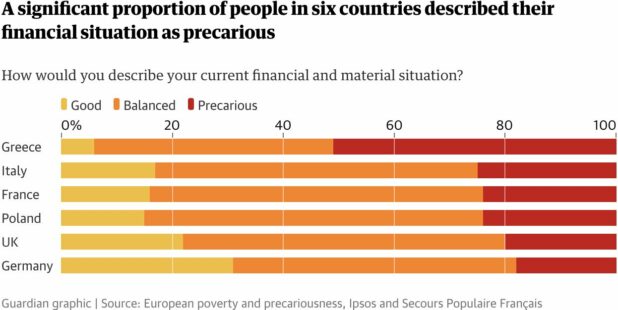 I'm so sick of hearing selfish people whine about how they're being driven into poverty by the war in the Ukraine.
Listen up, snowflake: we're fighting for democracy, okay?
Europe is not a safe space for snowflake Russian bots who aren't willing to go poor to save Zelensky.
One in four Europeans describe their financial position as "precarious", more than half see a serious risk it will become so over the coming months, and 80% have already been forced into hard spending choices, according to a survey.

As the cost of living crisis, driven by high energy prices, rampant inflation and Russia's war on Ukraine, tightens its grip, the six-country survey for the French anti-poverty NGO Secours Populaire painted an alarming picture of "a continent on the brink".

More than half (54%) of more than 6,000 people across France, Germany, Greece, Italy, Poland and the UK told the pollster Ipsos their purchasing power had fallen over the past three years – mostly due to higher food, fuel, heating and rent bills.

The hardest-hit country was Greece, where 68% of respondents said their spending power had fallen "a lot" or "somewhat" since 2019, followed by 63% in France, 57% in Italy, 54% in Germany, 48% in Britain and 38% in Poland.

About 80% of respondents said they had already been forced to make significant compromises, including cutting down on travel (62%) or heating (47%), borrowing from friends or family (42%), finding a second job (40%) and skipping a meal (29%).

Across the six countries, 64% said they were now "often" or "sometimes" unable to decide what to cut next as they had already cut what they could, 28% said they were overdrawn by mid-month, and 27% often or sometimes feared losing their home.

On average, about 27% of respondents across the six countries said their financial and material situation was "precarious", defined as "one unexpected expenditure could change everything", while 55% said they had to pay attention.

The future looked worse for many, however: a majority of Europeans (55%) said they felt they faced a very or somewhat significant risk of falling into precariousness over the coming months – with one in five (17%) assessing the possibility as very high.
Haha, yeah.
Nothing is going to get better.
They're just openly telling you it's all going to get worse, and they're not even suggesting that at some far future date it will get better.
Because of the coronavirus and Ukraine Democracy, you have to be poor forever. That's our values.
Next week, the #EU will provide financial assistance to #Ukraine in the amount of 18 billion euros for 2023, said European Commission President Ursula von der Leyen. pic.twitter.com/K7XCFgALlM

— NEXTA (@nexta_tv) November 6, 2022