Zelensky Refuses Peace Talks, Says Fight Must Go On Even If America Backstabs Him
Elvis Dunderhoff
November 8, 2022
---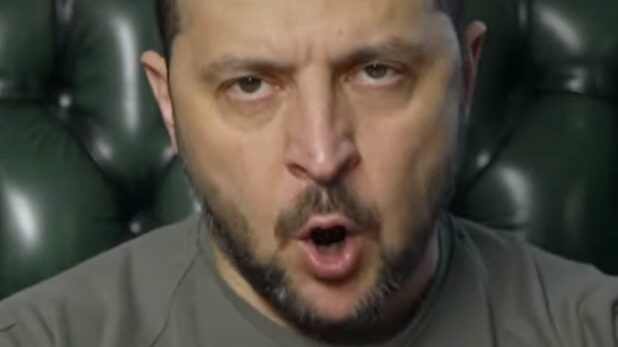 Previously: America Tells the Ukraine to Stop Publicly Refusing Peace Talks with Russia (Bad Optics)
Zelensky likened the threats to the Ukraine to the threats to Israel. This narrative is all about to get a lot more openly Jewish, because that works. Look at Kyrie.
Ukraine doubled down on its tough stance on negotiations with Russia on Tuesday, saying talks could only resume once the Kremlin relinquishes all Ukrainian territory and that Kyiv would fight on even if it is "stabbed in the back" by its allies.

The remarks come days after a U.S. media report that Washington had encouraged Kyiv to signal willingness for talks, and seemed aimed at rebuffing such pressure, at a time when U.S. mid-term elections could test Western support for Ukraine.

In an overnight address before he was due to address world leaders at a climate summit, President Volodymyr Zelenskiy said Russia must be pushed into "genuine" negotiations.

Zelenskiy said Ukraine had repeatedly proposed such talks, but "we always received insane Russian responses with new terrorist attacks, shelling or blackmail".

"Once again – restoration of territorial integrity, respect for the U.N. Charter, compensation for all damages caused by the war, punishment of every war criminal and guarantees that this will not happen again. These are completely understandable conditions."
Since Russia announced the annexation of Ukrainian territory at the end of September, Zelenskiy has decreed that Kyiv would never negotiate with Moscow as long as Vladimir Putin remains Russian president. Kyiv officials have repeated that position in recent days, while saying that Kyiv would be willing to negotiate with Putin's future successor.

"Negotiating with Putin would mean giving up, and we would never give him this gift," Zelenskiy adviser Mykhailo Podolyak said in an interview with Italy's La Repubblica newspaper published on Tuesday.

Dialogue would be possible only once Russian forces leave Ukrainian territory, Podolyak said.

"We have no choice. Russia has invaded us with mobile crematoria and half a million body bags. If we stop defending ourselves, we will cease to exist. Literally. Physically. We will continue to fight even if we are stabbed in the back," he said.

Oleksiy Danilov, secretary of Ukraine's Security Council, also tweeted that restoration of Ukraine's borders was a pre-condition for talks, and that Kyiv needed the "guarantee" of modern air defences, aircraft, tanks and long-range missiles.

On Monday, Kremlin spokesman Dmitry Peskov repeated Moscow's position that it is open to talks but that Kyiv was refusing them. Moscow has repeatedly said it will not negotiate over territory it claims to have annexed from Ukraine.
This is all a ruse, of course. The US is trying to relieve pressure from Europe, and the Ukraine is just doing what the US told them to do. Zelensky is a puppet of Jews at the US State Department, and is not going to publicly disagree with them unless he's told to.
Even if you thought he was an independent actor (pun intended), the Ukraine cannot last 12 hours without US support.
Everything about this fake war is a stage-managed drama designed for the media. The West says "oh, we're very reasonable people" then Zelensky says "I'm not reasonable at all!" and the US then says "well, I guess we have to go with his decision! He's the boss!"
russia, negotiations. The main condition of the President of🇺🇦is restoration of🇺🇦territorial integrity. Guarantee – modern air defense, aircraft, tanks, and long-range missiles. Strategy – proactive steps.🇷🇺 missiles must be destroyed before launch in the air, on land and at sea.

— Oleksiy Danilov (@OleksiyDanilov) November 8, 2022